Manchester Level Club, the club for young and new Masons in Manchester, recently held a charity auction and managed to raise the spectacular amount of £4000 for a charity which is close to the hearts of all Manchester Masons – Wood Street Mission.
Due to the pandemic, the auction was a virtual one and was held on Zoom and broadcast on Facebook Live. The auction was hosted by Global Auctioneers, a company owned by Manchester Mason and member of Friendship Lodge, Brother Marcel Duffy.
On the night Brother Darren Fletcher (MLC Chairman) acted as auctioneer for the event, and he was joined by WBro Chris Wildman and WBro Paul O Carroll who are the Chairmen of Sykes District and Derby District respectively. Sophie Bell of Wood Street Mission also attended, and she was thrilled by the sum of money that was raised for the various auction lots that had been generously donated by the Masonic community.
From the very outset of the auction, the Manchester Chairmen started bidding against each other, which provided a hilarious scenario for all those Brethren that were watching the auction live on Facebook. Chris and Paul won some lots and also similarly lost lots; however, they were able to console each other by raising a glass of red wine in commiseration after each loss.
The star lot of the auction was a 1981/1982 signed Manchester City shirt which had been donated by WBro Chris Welton and was sold for over £300.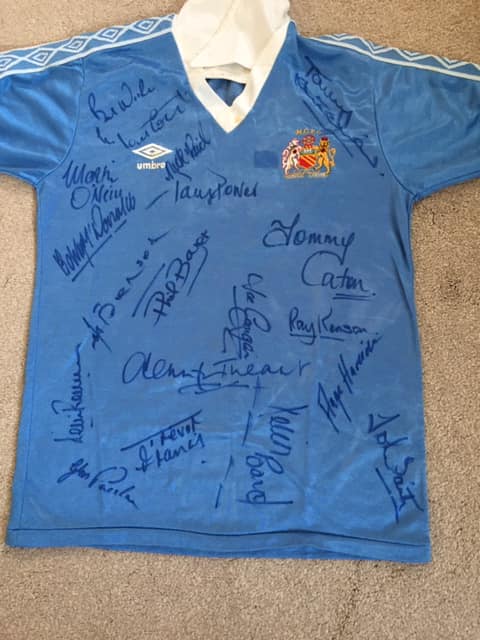 Sophie Bell one of the Fundraising team at Wood Street Mission has written "The incredible amount of money raised from the auction will help support the children Wood Street Mission help through their Family Basics project with the day to day essentials like children's clothes, toiletries, bedding, towels and baby equipment. It is more important than ever to support struggling families who are dealing with the impact of the pandemic on their lives and help make day to day life that bit easier. As a completely independent charity Wood Street rely on the local community to support this work to help improve the lives of local children. This amount will enable them to support 160 children through Family Basics for an entire year."
Wood Street Mission is incredibly grateful for all the efforts of Manchester Level Club and their generous friends for making this happen.
On the 16th December Darren, Paul and Chris visited the Great Northern Warehouse to present a cheque for the monies raised to the Manager of Wood Street Mission, Des Lynch.
Des was thrilled to receive the cheque and asked that his thanks be passed on to all those involved in raising funds.
Whilst at the Great Northern the Manchester Masons were able to see the Christmas toy give away that Wood Street Mission organizes every year for families in the Manchester and Salford area. They provide free toys for some 3,000 plus children every year. Des also announced there are over 76,000 children in Manchester and Salford alone that live in poverty.