It was an exceptional night at a very well-attended Ark Scroll Lodge for Wbro Michael Bernstein; he had managed to attain his fifty years of service milestone in craft freemasonry, a very prestigious achievement.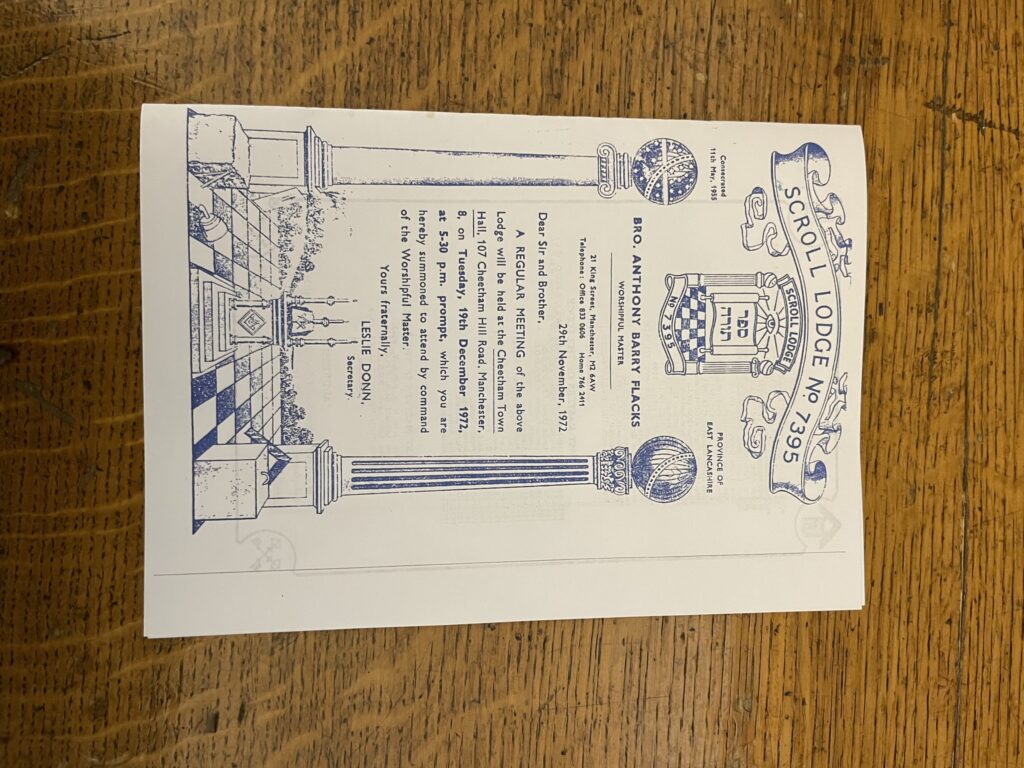 After the Lodge was opened and the minutes confirmed, WBro John Currie, the Provincial Grand Director of Ceremonies, was admitted and announced that Worshipful Bro Mark Davis, Assistant Provincial Grand Master for the Manchester Area, accompanied by Paul OCarroll, the District Chairman and a District Deputation was outside and that he demanded admission.
A very heartfelt personal address was given to Michael from Elliot Moss, a long-standing colleague in Arkscroll Lodge.
Both Michaels's grandfather and father had been Masons. They were members of the Lodge of Israel in Liverpool.
But many years later, Michael, on his return to Manchester, was encouraged by his cousin Merton Bernstein to join Scroll Lodge, which he did in December 1971.
On joining, he recognised a lot of members from his school days, and Henry Donn greeted him, saying that Michaels's father had introduced his father into Masonry.
Scroll met in the Cheetham Hill Assembly Rooms in those days, and Mrs Fruhman catered.
It would have been ten or so years later when I joined Scroll and Michael was a Steward. He had done a piece of ritual, and I thought, wow, hes quite something. Both the impeccable way he looked and the impeccable way he delivered the Ritual, he was imposing.
He went on to be an excellent Master in 1988. Just the standard 17 years from joining to becoming Master in Scroll in those days.
He was then Assistant Director of Ceremonies and was Director of Ceremonies for five years from 1994 to 1999.
Those were all my years on the floor working my own way up to be WM. He was a firm hand guiding us, but not in the military manner of many of his predecessors of the 80s and earlier.
When he was a Deacon, he joined Ark Chapter in October 1985, again encouraged by Merton.
He progressed rapidly and was 1st Principal in 1993.
Whilst he was IPZ, he was told gruffly by a senior figure; You're next to be Scribe Ezra.
So, he became Scribe Ezra in 1995 and held that position, first in Ark Chapter and then in the amalgamated Ark and Menorah Chapter, until last April, a total of 27 years.
He very much enjoyed being so involved in every aspect of the Chapter, with constant dealings with the Provincial Office.
When he was DC in Scroll, and I was Master, we sat next to one another at the Social Board, and I asked him about Chapter. He encouraged me to join and was my proposer. It must have been in his early years of being Scribe Ezra.
He progressed in Royal Arch, receiving PProvGStdB in 2000 and then PProvDepGReg just 2 years later. He was then promoted in 2010 to PProvGScN.
He served as a DORA from 2000 to 2005 and was heavily involved in the amalgamation of the Ark and Menorah Chapters in 2009.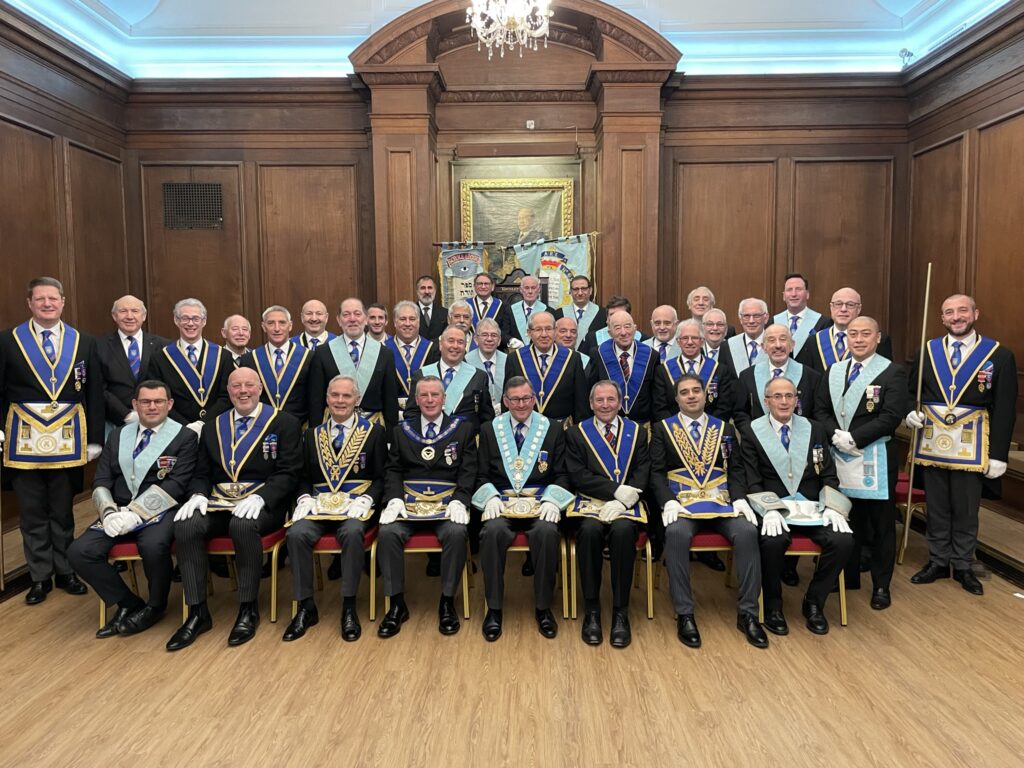 Meanwhile, in Craft, he had been a founder member of the re-consecrated Column Lodge in 1990 and was Master in 2006.
And after retiring as DC in Scroll, he became Chaplain for the last 4 years of Scroll from 2004 to 2007.
He did occasional reprises in Arkscroll, introducing some Hebrew words into his memorable Ecclesiastes ritual.
He got a Provincial rank initially in 1994 as PProvDepGSwdB and was promoted to PProvGSwdB in 2004. It was timely that he was further promoted to PProvGJW just 2 months ago in November 2022.
Michael has been an exemplary Mason in Craft and Royal Arch and deserves this tribute tonight.
WBro Mark Davis then delivered a very warm tribute to Michael, highlighting not only the contributions he has made to the Province of East Lancashire but also to Freemasonry in general.
Michael, as we have already heard, you were initiated into Scroll Lodge No.7395 on the 19th of December 1972 and a founding member of the amalgamated Ark scroll Lodge in 2007. You were installed as Worshipful Master of Scroll Lodge in the year 1988/89 and have held a variety of offices within the Lodge in the in-between years. In addition, you were a founder member of Column Lodge No. 5813 at its re-consecration in 1990 and served as its Worshipful Master in 2006/7.
Your first Provincial appointment was to the rank of Past Provincial Deputy Grand Sword Bearer in 1994, promoted to the rank of Past Provincial Grand Sword Bearer in 2004 and to your current rank of Past Provincial Junior Grand Warden in 2022.
You were exalted into Ark & Menorah Chapter No.6594 on the 2nd October 1985 and have served as its Scribe Ezra since 1995, standing down after 27 years, which again shows your fantastic commitment to the cause.
Your first appointment within Provincial Grand Chapter was to the rank of Past Provincial Grand Standard Bearer in 2002, and you was further promoted to Past Provincial Deputy Grand Registrar in 2002 and to your current rank of Grand Scribe Nehemiah in 2010
Brethren, the fact that Michael holds the ranks of a Warden in the Craft and Scribe Nehemiah in the Royal Arch demonstrates the high esteem in which Michael is held within the Province.
After presenting WBro Bernstein with his illuminated Certificate from the Right Worshipful Provincial Grand Master, WBro Davis requested that the Lodge DC perambulate him around the Lodge room to receive the acclaim of the Brethren.
Once seated again, the Chairman for City Derby District, WBro Paul OCarroll ProvJGW, presented Michael with a 50-Year Lapel Pin on behalf of Manchester Masons, congratulating him his on his momentous achievement.
In conclusion to his tribute, WBro Davis stated that Michael had been a constant and profound supporter of Freemasonry for fifty years, supporting his Lodges and Royal Arch Chapters within our fraternity, stating it represents an accomplishment that few can achieve.
After the Lodge was closed, the members hosted a warm and very enjoyable Social Board. Various colleagues paid tribute to Michael, who responded to the delight of all present.